Question
Is it possible to convert earthquake records obtained through experimentation and measurement into a Response Spectrum?
Answer
Using the built-in earthquake database in midas Civil, it is possible to extract earthquake records, response spectrum, and design response spectrum, and create graphs.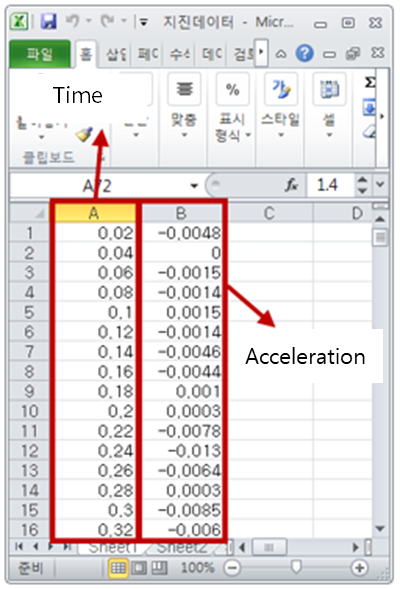 1) After organizing data for time and acceleration in Excel, save it as a *.CSV file extension.
2) Change only the extension of the saved *.CSV file to *.dbs in Windows.
3) In the midas Civil main menu, select [Tools] tab > [Generator] group > [Seismic Data Generator], and run SGS program.
: Import the saved earthquake record *.dbs file. [Generate > Earthquake Record]

4) Generate a response spectrum from the user-created earthquake data (*.dbs) and output the graph.
[Generate > Earthquake Response Spectra]
After importing the user-created earthquake data (*.dbs), set the type of the spectrum to be generated in the 'Spectrum Type' as 'Absolute Acceleration' (acceleration spectrum), and click the OK button.

5) After extracting the design response spectrum graph, import it into the 'Response Spectrum Functions' of midas Civil. Then, input the load conditions, response spectrum function, and direction of seismic load, and perform the Response Spectrum analysis.
[Load] tab > [Seismic (Load Type)] group > [RS Functions]