Function
The Wizard automatically generates the model data of a bridge constructed by an FCM, Free Cantilever Method, by entering simple variables. The data include elements, boundary conditions, tendon placement, construction stages, etc. for a bridge composed of PSC (prestressed or post-tensioned Concrete) Box sections.
Call
From main menu, select [Structure] tab > [Wizard] group >

[FCM Bridge]
Input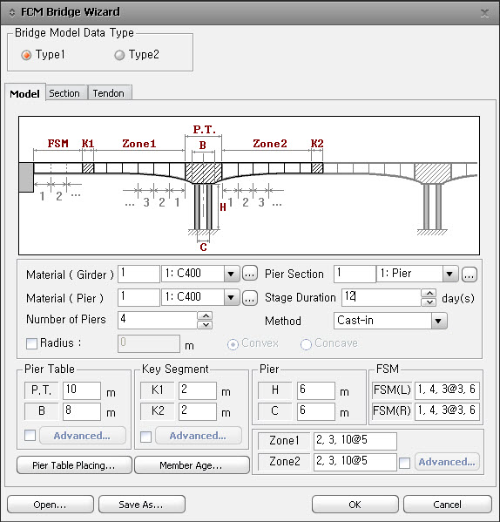 FCM Bridge Wizard dialog box
Bridge Model Data Type
Select a Data Input Type.
Type 1
Define PSC Box Section and tendon layout in conformity with the form provided by the Wizard.
Type 2
The user defines PSC Box Section and tendon layout manually. The Section defined by the user can be recalled and thus, multi-Cell Section can be defined.