Function
Apply the pretension load of truss elements as an external type. In the general static analysis, this version regards the pretension load as an internal type, but using this function, the pretension load can be entered as an external type.

This function cannot be performed with P-Delta Analysis or Buckling Analysis. Also, this function cannot be used with Gap or Hook elements.

The difference between Internal Type and External Type can be found in the Construction Stage Analysis Control > Cable Pretension Force Control section.
Call
From main menu, select [Load] tab > [Type : Temp./Prestress] > [Prestress Loads] group >

[External Type Loadcase]
Input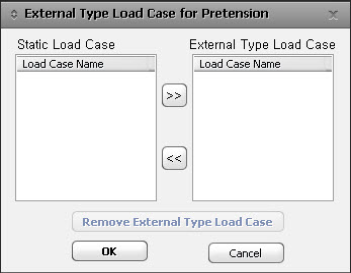 External Type Load Case for Pretension dialog box
---
Among the previously specified loading cases, select the loading case defined with pretension loads, and click

to select it as External Type Load Case.
To remove the input data entirely, click

.